Let's face it, having a spouse who travels for work isn't always easy.
Aside from the feelings of longing and loneliness, you have to tackle all the day-to-day responsibilities alone — a fact that is only compounded when you have small children to care for.
For the last 18+ months, I have to admit, I haven't talked about this topic much in my practice. Families have been home, and work travel was effectively halted for most of my patients.
Sure, this 24/7 togetherness came with its share of headaches, but, for the most part, it meant couples were in the same place, navigating kids, work, and home life — together.
But now that things are getting back to "normal" and travel is resuming, many moms and dads are finding themselves parenting solo, perhaps for the first time.
Personally, this is a situation I've been in many times before. As an expatriate living in America, I've completed eight international moves and have been left alone many times when my partner travels for work.
So, what have I learned that I could share with other parents in the same boat? Plenty.
As you approach your partner's travel date, check in with yourself and try these simple strategies to help get you through.
Plan Ahead for Connection
When you're home with young children for an extended period, it can be tempting to stay isolated, but connection is key. A good tip? If your partner is gone over a weekend, break Saturday and Sunday up into half-day periods and spend at least one part of one day with other people. I suggest scheduling this time to make sure you get some face time with family or friends.
Find Simple Ways to Feel Supported
It's next to impossible to keep up with everyone and everything when you're parenting solo. So, find ways to make the day-to-day grind just a little bit easier. Whether that's permitting yourself to order more takeout, hiring a dog walker or babysitter to help, or letting a friend drive your kids to their activities, create your own solutions and rely on those strategies for support.
Invest in Self-Care
Figure out what makes you feel most like yourself and tap into that. Sure, finding time to exercise or read or meditate (whatever it may be!) is more challenging when you're parenting solo. But even if it's just for a few minutes a day, your emotional and mental health will thank you, as well as the people around you.
Communicate Openly & Regularly
When your partner is away, and you're pulling double duty at home, it's essential to figure out how you're going to connect ahead of time. Before they leave, discuss what type and frequency of communication work best for both of you. Maybe you'll check in every evening after the kids have gone to bed, or maybe it's over a morning FaceTime session — whatever works best! Also, be sure to set expectations at the beginning of each call; if the kids are melting down and you know you'll have to hang up quickly, explain that as soon as you connect so you're both on the same page.
Create Family Rituals — and Stick to Them
One of the most important considerations when dealing with recurring travel is how to make it feel normal. How are you going to talk about your partner's absence with your kids? How will you prepare as a family for your partner's departure? Will there be gifts upon their return, or will you have a countdown calendar on your fridge? Determining how you'll keep these rituals consistent is key to realistic expectations and keeping anxiety at bay.
Be Gentle with Yourself…
And with your partner, your kids, and everyone around you.
Remember: What you're going through is hard, and everyone handles it differently. Take it one day at a time and if getting through it means lowering the bar, then do that — without guilt or judgment.
And if you ever need support or advice for navigating parenting alone, know you're not the only one and there are resources that can help. I'm happy to recommend online or in-person groups, therapy options, books, and more, so feel free to explore the TogetherWell website or reach out at any time.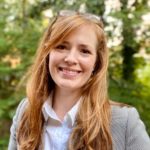 Sabrina Gibb is a Licensed Graduate Professional Counselor (LGPC) who provides psychotherapy for individuals and couples in Maryland, DC, and abroad. She has advanced training in and passion for supporting adults with various issues throughout their fertility, prenatal and postpartum journeys, and during the couple's transition to parenthood.