To all the parents out there preparing to send your baby to daycare for the first time, I see you.
Whether you're "ready" or not, taking that leap and trusting your child to someone else's care is a big deal.
And in the United States, one of only seven countries in the world without national paid maternity leave, this major milestone often comes around sooner than many parents are comfortable with.
Even after you've done your homework and figured out the best childcare solution for you and your family, the uncertainty remains.
"Did we pick the right place?"

"Is my baby going to be okay?"

"Will they be safe and happy in someone else's care?"

"What if this whole thing is a mistake?"
Sound familiar? If so, you're not alone.
Even in the best of circumstances, this transition can bring up a lot of mixed emotions — including relief, for some.
So, whether you're dreading sending your baby to daycare, looking forward to some adult time to yourself, or falling somewhere in between, there are ways to cope and make the transition as smooth as possible.
Find What Works Best for You

Like most things in parenting, childcare is not a one-size-fits-all situation. To help you feel as confident as possible in your decision, do your research and ask the important questions:

– Does the caregiving align with your parenting style?
– Are the caregivers up to date with their CPR/first aid training?
– Do they have parameters in place for adequate communication?

With this information in hand, talk with your partner about your options and choose what feels right to you. (And remember: You can always change your mind if it doesn't work out as planned.)

Face Your Fears

Sending a child to daycare at any age is a challenge, but it's especially tough when it's your newborn.

You're exhausted and still recovering from the birth, and you now have to go through another life-changing moment. To make the process of sending your baby to daycare easier, take the time to face your fears head-on. What's your biggest concern? Are those concerns a symptom of something bigger? Or are you just nervous or unsure about what lies ahead?

Answer those questions and do everything you can to make yourself more comfortable with the situation. One suggestion: Visit the daycare a few times before the big day. Even a simple drive-by can help settle your nerves and make you feel more comfortable with your decision.

Focus on the Benefits

We have the data to show that, for most families, daycare turns out to be a great thing for both the parents and the baby.

According to a study from the National Research Council and Institute of Medicine, high-quality childcare (the kind that mirrors parenting, provides stable relationships, and stimulates the child) can enhance a child's cognitive and linguistic development and advance their social skills.

Plus, it gives you a chance to nurture your personal and professional life while your child learns to thrive independently without you. (Even though you're always just a phone call away!)

Leave the Guilt Behind

Let's face it; mommy guilt is real. Whether you're ready to return to work or anxious about the change, rest assured your feelings are entirely normal and valid.

The most important thing is to be kind to yourself always, but especially during this highly emotional time. Treat yourself to some self-care, whether that's a yoga class, a long walk with a friend, or some time to yourself to process your feelings.

Give yourself some grace and know that you're doing what's best for your family.

Get the Support You Need

Feelings of guilt, anxiety, sadness, and relief are all completely normal when it comes to sending your baby to daycare. But if you find yourself unable to turn the feelings off or they're lingering for a long time, it may be time to seek help.

Online or in-person support groups are an excellent resource for helping you feel less alone, as well as professional therapy. Whatever you're looking for (or if you're not sure what option is best for you), check out the TogetherWell website or contact us directly at any time.
And remember: While the reality of daycare will surely feel more normal over time, it's an ongoing process.
Some days will be hard, others easier. Stay tuned into your feelings and focus on the big picture and what works best for you and your baby.
Because, in the end, that's all that matters.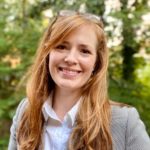 Sabrina Gibb is a Licensed Graduate Professional Counselor (LGPC) who provides psychotherapy for individuals and couples in Maryland, DC, and abroad. She has advanced training in and passion for supporting adults with various issues throughout their fertility, prenatal and postpartum journeys, and during the couple's transition to parenthood.