We've all been there…
You're at your doctor's appointment when the physician asks:
"Do you have anything specific you'd like to discuss today?"
You don't know what it is exactly, but something about the situation makes you freeze. Even if you came with a list of questions, bringing them up suddenly makes you feel incredibly vulnerable — especially when those concerns revolve around your mental health.
As a provider myself, I'm very familiar with the fears that often come with discussing prenatal, postpartum, maternal, and quarter-life mental health issues. From diagnosis to medications and treatment plans, it's not at all unusual for people to feel shame or worry during these conversations.
While advocating for your own mental health can feel uncomfortable, I'm here to tell you that it's the most important step when it comes to receiving proper care. After all, no one understands what you're experiencing the way you do.
So, how can you sufficiently advocate for yourself to get the best possible treatment for your mental well-being? There are five essential steps you can take to make the process easier.
Talk to your provider sooner rather than later. Learning how to verbalize how you're feeling and what you're experiencing is an important first step toward receiving the attention you need. If you haven't done so already, schedule an appointment to speak with your primary care physician or OB-GYN and voice your concerns. I understand this can be intimidating, so if that doesn't feel comfortable just yet, you can also practice speaking with your spouse, a friend, your therapist, or members of a support group.
Practice self-awareness — and take notes.

Tap into how you're feeling and be clear about how your mental health struggles are impacting you on a day-to-day basis. Take notes and indicate the severity of how you're feeling. Bring that information, including follow-up questions, when you visit your provider. This information will help you stay on track during the meeting and help them better understand what you're experiencing to provide advice for proper treatment.

Bring a support person with you.

It can be helpful to bring a trusted partner, parent, or close friend with you to your appointment to provide a secondary perspective regarding what was said and what should happen moving forward. This type of patient advocate can also help you voice your concerns if you're having a hard time speaking up for yourself or feeling like you aren't being heard.

Be persistent until you find what you need.

From verbalizing your concerns to finding a mental health professional who understands and respects what you're going through, the process of getting the help you need can be trying. Advocating for your own mental health is incredibly important, so be persistent when searching for the right provider who makes you feel safe, heard, and gives you the support you need.

Give yourself plenty of grace.

This might be the most important suggestion of all. When you're going through a hard time, it can sometimes feel like you're not making progress quickly enough. Just remember: Healing takes time and can sometimes feel like you're riding a rollercoaster of good days and bad days. Trust that things will get better, and recovery will come.

Advocating for ourselves and our mental health might feel uncomfortable and anxiety-inducing, but it doesn't have to be.
Preparing for your upcoming appointment and arming yourself with detailed information and a support system will help make the process easier and get your questions answered and concerns addressed.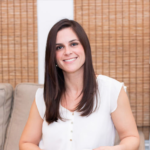 Joanna Strait, founder of TogetherWell, has over 10 years of experience as a Licensed Clinical Social Worker (LICSW/LCSW) and provides psychotherapy for adults living in Maryland, Virginia, and Washington D.C. She specializes in prenatal, postpartum, maternal, and quarter life mental health.