The holidays are one of the happiest times of the year.
But for parents grieving an infant loss or miscarriage, it can also be incredibly painful.
From holiday music on the radio to unpacking ornaments and keepsakes, the sentimentality of the season can bring on pounding waves of emotion.
And that's before you even factor in parties and visits with the ones you love most — social gatherings that can leave parents feeling overwhelmed yet still alone and unseen.
Fortunately, most people have supportive family and friends who help them through these difficult times. But many also experience their fair share of unhelpful comments or lack of acknowledgment that only add to their feelings of isolation.
So, how can you lighten the load of these grieving parents during the holiday season? To begin with, always be mindful about what you say, but do say something.
The most common thing I hear from my patients is that people are so scared to say the wrong thing that they wind up saying nothing at all.
My advice?
Acknowledge the loss and even call the baby by name if one had been given. This simple gesture helps parents know their child is not forgotten, not only by them but by those around them.
And while talking about it may bring a tear to their eye, just letting the parent know that you're thinking about them and remembering lets them know they're not alone.
Some other helpful suggestions:

Continue to reach out, especially when others have stopped.
After a tragedy, it's normal to be inundated with support. But as time passes, those check-ins and gestures can begin to taper off. Make it a point to reach out with simple ways to help, such as picking up groceries, delivering a meal, or offering to take their other kids off their hands for a few hours. Even if they decline, try again later and know the effort didn't go unnoticed.
Remember important dates.

Use your calendar to keep track of due dates, birth dates, and loss dates — any special days that could be meaningful to a grieving parent. Reach out on those days with a card, flowers, or just a phone call. Also, remember that holidays can be especially hard, but knowing someone remembers their child during this challenging time can make a huge difference. 
Take note of your traditions.
Recently, one of my patients who suffered a miscarriage shared that she was dreading Thanksgiving this year. You see, her family has a tradition of going around the table and saying what they're thankful for — a ritual that would feel particularly excruciating after what she's been through. Take note of this story and be mindful of how your traditions need to allow room for everyone's unique experiences. The last thing you want is for any parent to be put on the spot during a difficult time.
Don't forget the dads.

When a couple experiences infant loss, the father often feels like he has to stay strong for his partner. He's making phone calls, dealing with day-to-day responsibilities, and often going back to work before he's ready to provide for his family. While most people ask how the mother is doing in these situations, how is the dad? Even if he's not sharing his feelings, he misses his baby just as much, so check in and ask regularly.
Help your loved ones find the support they need.
We all try to be there for the people in our lives, but sometimes people need more than what we can offer. If your loved one is struggling and you feel that they may need extra support, you could help them find what they need. For example, some people find it helpful to join an online or in-person group. Others may benefit from speaking with a perinatal therapist or other professional. Here, at TogetherWell, we have several resources for grieving parents, so feel free to reach out to us first.
No matter what you do, showing up is the most important thing you can do, even if you're unsure how.
As a friend or family member of someone experiencing infant loss, remember that you will make mistakes and wonder if you're doing the right thing, but just being there — especially when it feels like others have moved on — will mean more than you'll ever know. 
For added resources and support, feel free to explore the TogetherWell website or reach out at any time. We're happy to help with anything you need.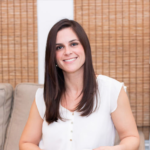 Joanna Strait, founder of TogetherWell, has over 10 years of experience as a Licensed Clinical Social Worker (LICSW/LCSW) and provides psychotherapy for adults living in Maryland, Virginia, and Washington D.C. She specializes in prenatal, postpartum, maternal, and quarter life mental health.